UNDERSTAND TECHNICAL SOLUTIONS EASILY WITH VR!
AIRD'S VR PRODUCT PRESENTATION FOR INTERNATIONAL FAIR
360Mediahouse delivered a packaged experience to AirD, taking care of everything from filming and hosting to the design of the 3D-environment. At the fair, the VR-experience attracted a large audience. In addition, the presentation is to be utilised in various social media channels.
FEATURES

360° video shooting
Hosting
Customised 3D environment
Integrated customer materials
INTELLIGENT VENTILATION PRESENTED THROUGH VIRTUAL REALITY
VR PRESENTATION AS INTERESTING MARKETING TOOL AT FLORIDA'S MARITIME EXHIBITION
Founded in 2010, AirD Ltd is a Finnish company that designs, manufactures and sells completely new types of intelligent ventilation systems. AirD's products are used in apartments, offices, hotels and ships.
AirD presented its patented technology through virtual reality at the Seatrade Cruise Global exhibition held in Florida in March 2018.
AirD's marketing and sales director Leena Salmi tells how they came to use VR in their marketing and what kind of experience they gained.
WHERE DID YOU GET THE IDEA TO PRESENT YOUR PRODUCT THROUGH VIRTUAL REALITY?
We were introduced to 360Mediahouse's representatives Henrik Helin and Toni Ljungqvist in Turku at a customer event where they presented their fine VR demonstration to the client. We were also interested in experimenting with VR as a way of demonstrating our technological solution. After talking, we quickly realised we were on the same wavelength and they understood clearly the value proposition of our solution.
WHAT ADDED VALUE HAS VR BROUGHT TO THE PRESENTATION OF YOUR PRODUCT?
We have found that in sales situations there is a challenge to match the customer perception of our intelligent ventilation solution with the reality. Through VR, the sales presentation has clearly helped in defining the whole concept. By visual means, it is possible to create, in a short time, a versatile and illustrative way to grasp all the technical features of our solution.
The VR-presentation works extremely well, particularly in an exhibition context. The presentation allows the customer to fully focus on the topics, helping the message absorb faster and more effectively with their complete attention.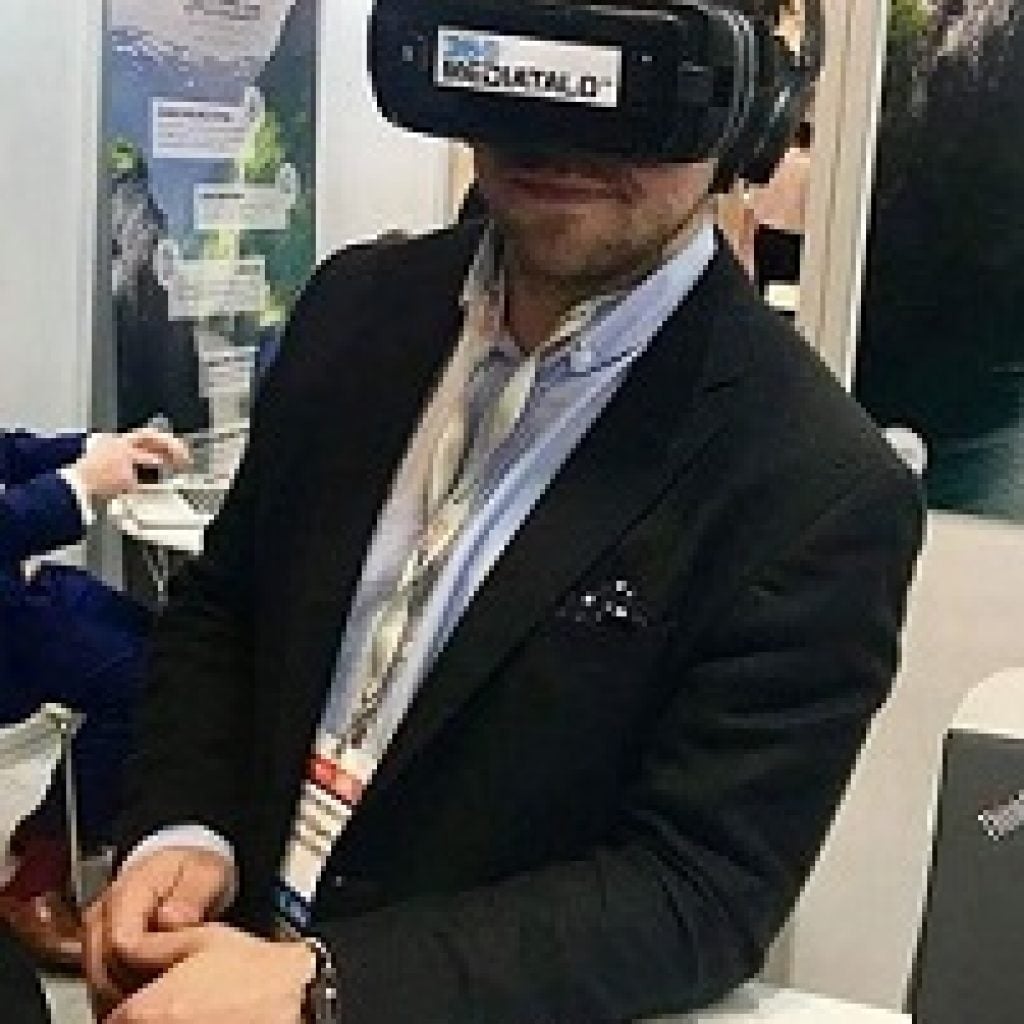 WHAT KIND OF RESPONSE DID YOU GET FROM THE PRESENTATION AT THE EXHIBITION IN FLORIDA?
Customers considered the virtual presentation to be interesting and it was a good way of starting a conversation. VR provided a quick introduction to our company and solution, which was great for continuing discussions and negotiations. We noticed the presentation also offered something new for those who knew about our product. VR also acted as a good differentiation factor, as virtual reality has not been actively used in B2B sales.
WHAT KIND OF PROCESS WENT INTO MAKING THE VIRTUAL PRESENTATION? WHAT DID IT REQUIRE FROM YOU?
From our perspective the process was clear, simple and easy. We received the final product fairly quickly after just a few meetings, in which we went through our solution and ideas for implementing the presentation. We provided all necessary information, including sales material and images. 360Mediahouse were able to take care of us on a turnkey principle. We were even supplied with VR-glasses and other equipment for the exhibition.
HOW WELL WERE 360MEDIAHOUSE ABLE TO UNDERSTAND YOUR BUSINESS AND IMPLEMENT YOUR VR PRESENTATION?
360Mediahouse understood our business extremely well. They quickly grasped the value of our technological solutions and immediately had a vision of how to go about implementing our product demonstration.
The VR-presentation was a great success. Best of all were its visuals, versatility and diversity – both in terms of the images and sound. The story was developed with a very clear narrative. The British host, Andrew Scholfield, was a superb choice by 360Mediahouse to write the script and present the product.
HOW SATISFIED WERE YOU WITH THE COOPERATION WITH 360MEDIAHOUSE?
We were very pleased with the good cooperation. Everything went smoothly and the whole process was very easy. From the start, 360Mediahouse provided a clear idea of how to go about implementing the product demonstration and the means to create the presentation.
We already have new ideas for utilising virtual reality, for example, in our guidance for installation. In addition, there is the potential for VR to provide a benefit in maintenance and other similar situations.